Post by submoa on Jun 30, 2017 17:44:00 GMT -5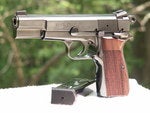 It is referred to as: " This all-steel beast is made in Bulgaria. It's basically a beefed-up, uglier Browning Hi-Power with a double action/single action trigger system dropped in." in an article in "The Truth About Guns.com" article dated December 6, 2016 by Dan Zimmerman. It is located at:
www.thetruthaboutguns.com/2016/12/daniel-zimmerman/gun-review-arcus-98da/
. This is an extensive review of the pistol in which the author centers much of his review around the similarity of this pistol with the BHP. The photographs displayed in the article show a strong similarity with the BHP design, especially the photo of the pistol field stripped.
In a Chuck Hawks article at the author, David Tong presents a review of the Arcus Model 98DA in which he makes such comments as: "..... The arm is an interesting mix of the old Hi Power and newer DA designs......" and
".....Constructed of CNC machined steel forgings, the pistol's outward appearance is influenced by the older FN design. If one is familiar with the P-35, one can see the slide stop and thumb safety lever's shape, the plate ejector that acts as the hammer's left bearing surface, the pressed in, frame mounted barrel unlocking cam, the magazine release, split front and rear frame rails and the general outline of the slide is classic FN."
JayPee
WADR, I'm in total agreement with Mr. Burgs. Contrary to the opinions of some writers for gun rags…especially internet gun rags, pamphlets and...yes, even normally respected authors, the Arcus 98DA is most definitely not a High Power "copy". In fact, it doesn't even fit within the definition of a High Power "copy" in the first paragraph of this very piece…unless we change the definition ("appears to be a copy of an original form") of "clone". There is nothing in the Arcus 98DA; design, operation and particularly overall appearance that is "copied" directly from the BHP. I would suggest a test used in determining whether something violates a patent or copyright; could the Arcus 98DA reasonably be confused…by an educated consumer, for an FN BHP? I think not.
As a further point…a major point IMHO, I would also suggest that the BHP is more than the sum of its parts…much more. It has a very definite "je ne sais quoi"…which the Arcus most definitely lacks. If that requires explanation

…..
As far as the cites: I don't know that I've read a gun rag article on the BHP…and I've read a few, that did not regurgitate previously published…often common, errors. The single recent exception would be those few published by Anthony Vanderlinden. Consequently, the opinions of such writers who obviously do not have extensive experience with the BHP in particular but have instead just relied upon others existing writings, mean nothing…to me anyway. As far as Mr. R. Blake Stevens; those of us who are enamored of the BHP owe a debt of gratitude to Mr. Stevens…we do and I've said so many times, BUT his expertise has always concerned the development and early/mid history of the BHP…not the more recent developments. Citing his inclusion of the Arcus 98DA in the Addendum only added in the 2014 Edition, should be taken with a grain of salt…similar to his misunderstandings that the T SNs ended in 1968…or 1969 if you believe an adjacent pic caption, the MkII was produced between "1983 and 1988"…or alternately a few pages later that the MkII was introduced in "the late 1970s"…there are others. We all make mistakes

.
And, at the risk of appearing an FN BHP snob…though a snob probably wouldn't own 11 FEG P9 based pistols and 3 FM pistols

, I'll take it a step further; I don't consider the S/A only Arcus 94 a High Power "copy/clone" either…in spite of the internal parts. Why? See above.
On a side note; FWIW, there are published pics of the Indonesian Pindad; see Blake Stevens BHPAP pg. 264 and 265 and E.C. Ezells Small Arms of the World 12th Edition pg. 547 for starters. I handled one of several while training Detasemen Khusus 88 of the Indonesian National Police at their range facility just a few years ago. It was a typical…but well worn, pre 1960 pattern pistol…wish I'd taken a few pics.